Newer things first. Click on the photo below for recent oil paintings...

---
And some older pictures for you to browse amidst: The Art School Days.
Smile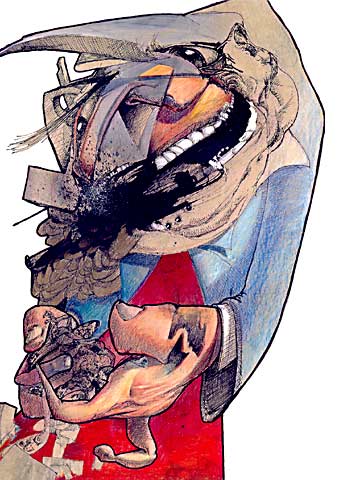 Greed (and some Monkey Pool?)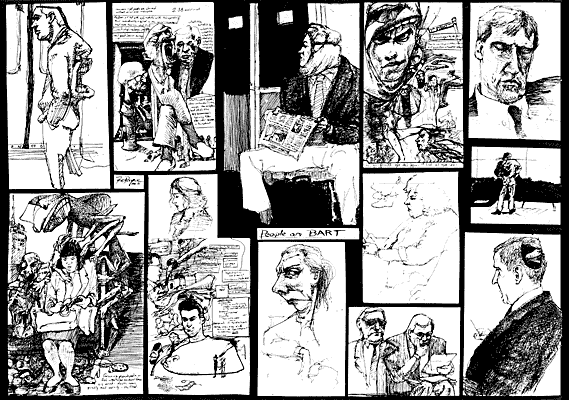 People on BART
---

...and now a slightly newer version of reality: a tragic tale that spans the years frommisbegotten youth over hard lessons learned and running streams of blood and bile to anchor in the end on the further, but no less mysterious, shore. An embarassingly frank and shady stroll through the infantile corridors of my mind and soul at the time, down the stairs of dispair, disillusion, sorrow and pain, to rest awhile beside the vast dark pool of uncried tears. And from there the journey continues away, through the shards of broken dreams and puddles of uncertainty to here and now...
Selections from "Myoptic Visions, or My First Midlife Crisis."
120 pages of hilarity and hijinks! Handbound copies available from this publisher!
Order yours today!
| | | | |
| --- | --- | --- | --- |
| Page 001 | Page 002 | Page 005 | Page 042 |
| Page 071 | Page 100 | | |
Well, that's enough of that for now. If you'd like to see a painting of a knight in the forest, please do.
And here I am with lots of fingers, very small.

Of course all these drawings, paintings et alius are copyright Thomas Payne 1990-2004.
And if you've found this page somewhere somehow, let me know what you think. If you'd like to...